With over 20 technical/functional Project, Program and Portfolio Management (PPPM) expertise, we continuously support our PPPMs with the latest methods, frameworks, tools, and techniques. Regardless of the size of the project/program, we stand by your team to help you reach your goals and objectives.
Many projects and program managers advance their careers through their work experience. Most went from team leading to management without much training on how to initiate, plan, and execute effectively and finish and successfully! Many PMO leaders can delegate tasks very well without proper knowledge of creating a project from scratch!
A high percentage of project failures are due to the lack of proper knowledge of the project and its deliverables!
– by PMI surveys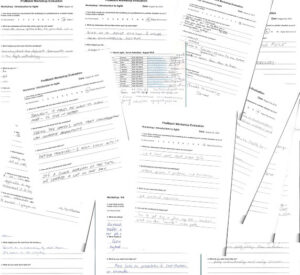 How would a PM provide customers' needs without thorough scope planning and requirements gathering? And how would a PM manage many intertwined project planning processes such as schedule, cost, resource, risk, quality, and stakeholder management plans?
We have heard PMs are required to know about Agile frameworks, methods, and emerging tools for managing projects with Lean AND Kaizen in mind! Along with many derived frameworks, the Agile Manifesto, Principles, and Values have led to the success domain of numerous troubled projects.
Let us start simple; your organization (or leadership) wants to adopt, implement, and/or enhance (Lean-Agile principles and) practices. We provide training, guidance with continuous support to your teams and organization in transition and/or implementing ever-evolving collaborative practices.
We have fully versed Lean-Agile Coaches and PM Instructors with decades of industry and academic experience to help your teams and leadership to fine-tune the principles and practices of Lean, Agile, and hybrid frameworks and methodologies. We have successfully assisted organizations to adopt and implement their best practices in change management.
Our simple to complex services can be customized to your specific needs, including:
Creating short presentations to introduce Agile frameworks and ways of collaborative working
Helping teams to enhance their daily tasks proceedings using customized workshops
Creating custom workshops for management at any level to plan strategic planning
Plan, build, and measure improvements using needed workshops using projects in-progress
Helping senior management in planning and supporting PMO leaders and organizations
Creating continuous improvement training sessions and workshops
We have developed and delivered numerous Project Management and Agile training courses and certification programs for the past ten years.
Regardless of your project team's needs, we provide different levels of training programs and courses to help your team succeed in their projects and program. Some of our courses include:
PMP preparation course.
Various structured/Waterfall project courses such as Project Planning Fundamentals, Project Scope Management, Project Schedule Optimization, Project Risk Management, Project Stakeholders Management, Fundamentals of Disciplined Agile Delivery.
Scaled Agile Framework (SAFe®) certifications, Scrum certifications, and Agile Product Lifecycle Management.
Customized courses per your needs.
Call us, Schedule a Free Consultation, or Contact Us for your training needs.
Your satisfaction is guaranteed!